Weekly Review 2015-08-18
2015-08-19 15:25:07


Energy Finance

Energy Finance News Review

On August 10th, NDRC announced the latest progress in pricing reform, and pointed out it would continue to deepen reformation over electric power price, promote pilot project about reformation over transmission and distribution tariff, and expand the pilot project scope. Strengthen supervision over natural gas pipeline transmission and study and formulate the administrative method and pricing cost review and supervision method over pipeline transmission price. Actively promote construction over Shanghai Petroleum and Natural Gas Transaction Center to cultivate good market environment for strengthening market-liberalized reformation over natural gas price.

The first finished oil spot transaction center in northern China-Qin Huangdao Energy Transaction Center, went into formal operation on the 11th. The center will run spot transaction over finished oil, fuel oil, aero-kerosene, LNG, and LPG, etc. and, it is estimated that the annual transactions will exceed hundreds of billions Yuan, generating more than twenty billion profits and taxation. Currently, the Dongao Group, Deleixi (Laizhou) International Trading Company, and United An Neng Petrochemical Company Limited in Qinghuangdao and Princess Noura &Partners have formally signed agreements.

Sino-Pakistan Economical Corridor Forum (Xingjiang- Kelamayi) ended on the 12th. Twenty cooperative memorandums were signed in the forum, with a total value about 10.350 billion Yuan. the forum reviewed the <<Kelamayi Proclamation>> in the meantime. The signed lists includes the infrastructure projects between China and Pakistan in areas like energy, electric power, and industrial park, among others, and cooperation in education, training medicare, agriculture, livelihoods, and culture etc.

Energy Finance Data Analysis
China5e • Energy Index is a vane of China energy industry development condition, it includes Energy Composite Index, Oil & Gas Index, Power Index, Coal Index and New Energy Index.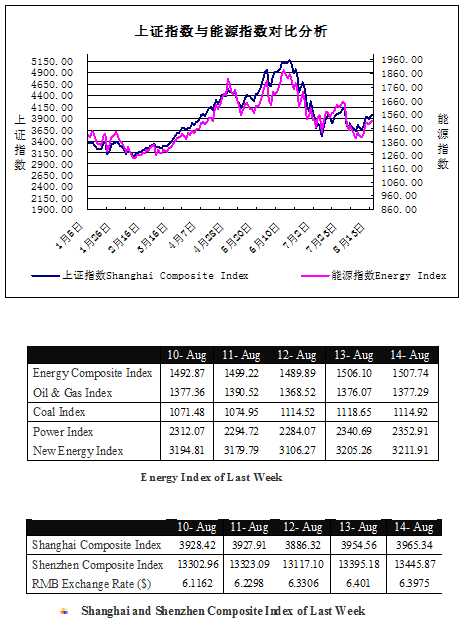 Coal & Power

Coal & Power News Review
According to the news blown up by medias, the dragon-head enterprise in Chinese coal industry, China Shenhua lowered down its price once again on the 6th to promote sales and, more favorable space would be added on top of the price in August, which means the maxim favorable supplementary policy would be given to Shenhua-mixed coal.2, Shenhua-mixed coal 5000, Shenhua-mixed coal 3 and Stone-carbon 2 if each shipment exceeds 40 thousand tons, a 10 Yuan reduction would be offered, and the policy would remain effective throughout this August.

As the second largest coal enterprise, China Coal Group quickly reacted after Shenhua lowered down its price and followed up by cutting its price.

China Coal made two price adjustment plans in the first ten days in August and offered 10 Yuan reduction per ton for Ping I (5800) , Ping II (5500), and Ping 7 coal if shipment is arbitrarily assembled, with quantity exceeds 40 thousand tons, while the maximum price shall be implemented throughout August.

Since 2015, impacted by factors like increasing economic downward pressures, domestic coal price has slumped all the way. Therefore coal enterprises have to try their best to promote sales, forced by immense sales pressure and almost half-cut net profits.

Analysis points out that in August, the large domestic coal mines headed by Shenhua once again increased favorable treatment, which was forced by sales pressure and for grabbing market share and lay foundations for winter market, which maybe the beginning of a new round of price reduction in China's coal industry. The pricing policy of China Coal has always been following immediately that of Shenhua's, and its price is cheaper than that of Shenhua. In this week, China Coal announced its quantity-based favorable treatments, met market expectations.

Coal & Power Data Analysis




Bohai Thermal Coal Price Index (BSPI) (Unit: yuan / ton).
Published:Aug 12, 2015




Oil & Gas

Oil & Gas News Review
Recently, IEA expressed that, stimulated by the falling of oil price below 50 US Dollars per barrel, the global oil demands has created the most rapid increase in five years. Although oil price has slumped significantly, the competitors of OPEC will start cutting output by next year.

The latest data from Custom General Administration shows that China imported 30.71 million tons of crude oil in July, rose 29% over that of the same time period of last year, created record high. The record before was 30.37 million tons imported in last December.

Since the middle of this March when work was initiated, the "Thirteenth-Five Year Plan" on oil and chemical industry is preliminarily drafted at the moment and, the next step shall be revising, evaluating and improving on the basis of drafted plan. It is predicted that the output scale for chemical industry and new energy industry will increase to hundreds of million tons by 2020, from the current tens of millions tons.

Rosneft expressed on August 10th that the 30 years natural gas supply contract it signed with China, are based on the optimistic attitude over oil market, and no protective measures were taken over long-term low of oil price.
The data as announced by Shanxi Provincial Statistical Bureau recently shows that, in the first half of this year, the added-value of three of the eleven major industries rose compared with that of the same time of last year, in which, exploration over coal-bed methane rose 15.6%, with exploration volume achieved from coal-bed methane reached 1.6 billion cubic meters, rose 8.8% compare with that of the same time of last year.

On August 11th, the first finished oil spot transaction center in northern China-Qin Huangdao Energy Transaction Center went into formal operation on the 11th. The center shall run spot transaction over finished oil, fuel oil, aero-kerosene, LNG, and LPG.

Oil & Gas Data Analysis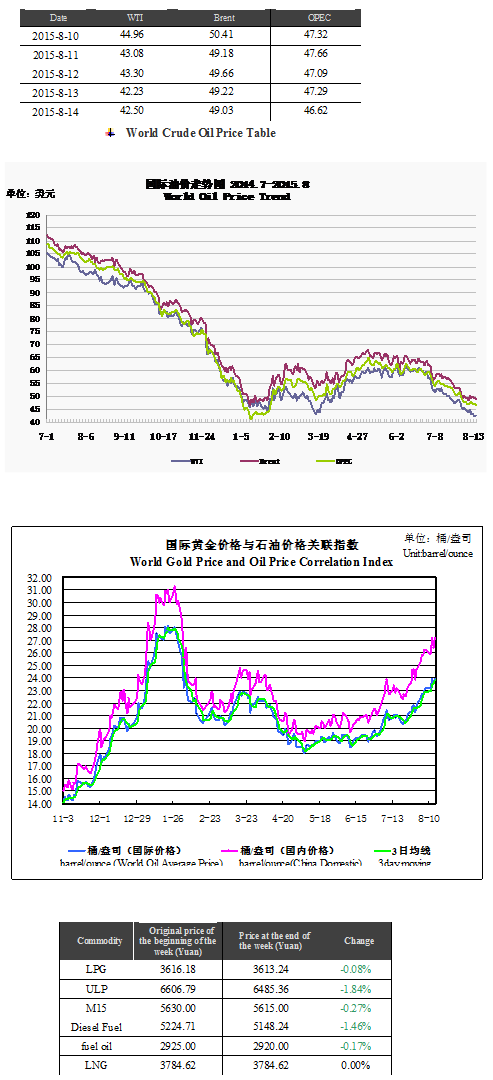 Major energy commodity price(8.10-8.14) (Unit: Yuan)




New Energy

New Energy News Review
On August 6, EU made a verdict saying that Chinese solar energy glass enterprises dumped products in European markets with the price way below the bottom line, and started to levy interim anti-dumping tax against Chinese-made photovoltaic glass products for six months. Since photovoltaic glass is an ancillary material to photovoltaic, the trading volume over photovoltaic glass between China and Europe is not big and only impact 262 million US Dollar worth export volume.

State Forestry Administration recently organized experts from China Forestry Science Academy into three groups and went to Zhejiang, Shaanxi and Yunnan to investigate the forestry land occupation by the photovoltaic power generating stations. The working groups investigated 14 photovoltaic projects built in nine counties, studied impacts of photovoltaic power generating stations on the growth of vegetative cover and ecology, and provided decision-making basis for formulating the policy over forestry land use by photovoltaic power generating stations.

In this June, the Opinions On Promoting the Application and Upgrading of the Advanced Photovoltaic Technological Products was released and the "Front-Runner" Plan was implemented. Since the announcement of the plan, photovoltaic enterprises reacted positively. And the list of the Front-Runners who have applied for certification shows that quite a few photovoltaic enterprises like Tianhe Photovoltaic, Yinli Energy, and Hanergy Holdings have applied to join in the plan.

NEA official exclaimed a few days ago at event that with more than ten years' development, China's renewable energy industry is encountering difficult situations, where power generation is limited and subsidy is delayed, and the quota reached "20 billion KWh" and "20 billion Yuan" respectively. The double 20 billion Yuan dilemma highlights the problems in China's new energy development mode and administration system.

Seven ministries and commissions, including NDRC, Ministry of Finance, Ministry of State Lands and Resources, recently published the Guiding Opinions On Strengthening The Construction of Urban Parking Lot, making it clear that parking facility construction will be facilitated so as to alleviate insufficient supply of parking lot, realize orderly parking, and encourage parking lot be constructed in accordance with certain ratio to match the construction of charging facilities for electric automobiles and be constructed simultaneously with main body facility.

New Energy Data Analysis




International Solar Price (Unit: USD)