Weekly Review 2015-09-08
2015-09-15 13:35:02


Energy Finance

Energy Finance News Review

Russian president Vladimir Putin expressed when interviewed in written form by Tass and Xinhua News Agency that Russia and China are facing joint task including economical structure adjustment and building of energy confederation, and should not allow brewing ideology and unscrupulous attitude of exception theory. Putin believes that: "Energy remains the main field. And Russia and China shall gradually build energy strategic confederation, and I believe this will play an important role in international economical relation.

On September 3, Russian president Putin, who came to China to attend the commemorating ceremony on the 70th anniversary over world anti-fascism war witnessed, together with China President Xi Jinping the signing of the cooperative agreement between enterprises of the two countries. Wang Yupu, Chairman of China Oil and Chemical Group Company and Sechin, President of Rosneft signed the Framework Agreement Over the Cooperation on Joint Development of Russkoye oil and gas field and Ulubuchin-Touhun Oil and Gas Field. And Russian state oil company Rosneft signed framework agreement over acquisition of 30% equity of China Chemical Industry Group.

People`s Bank of China issued its public announcement on September 1st that, the bank and Administration of Foreign Exchange, together with State Development Bank have established fund that aims at developing cooperative investment funds over the production capacity of China and Latin America, with the IPO scale 10 billion US Dollars. The Bank has expressed that the fund will respect international financing rules and, by means of equity and debt financing, invest in the fields of manufacturing, high-and-new technology, agriculture, energy production and infrastructural structure and financing cooperation to achieve sustainable investment of mid and long term financing.

The "Junker Investment Plan" that aims at vibrating European Union will be formally initiated in early September, and the total investments would reach €315 billion. The European Union (EU) Committee expressed a few days ago that among the nine infrastructural projects that have been selected already, five are related to energy, and such projects shall facilitate the European Energy Confederation.

Energy Finance Data Analysis

China5e • Energy Index is a vane of China energy industry development condition, it includes Energy Composite Index, Oil & Gas Index, Power Index, Coal Index and New Energy Index.
| | | | | | |
| --- | --- | --- | --- | --- | --- |
| | 31- Aug | 1- Sept | 2- Sept | 3- Sept | 4- Sept |
| Energy Composite Index | 1147.87 | 1208.73 | 1196.27 | 1211.32 | 1185.41 |
| Oil & Gas Index | 1081.05 | 1132.59 | 1111.54 | 1137.53 | 1089.60 |
| Coal Index | 767.14 | 819.46 | 817.59 | 824.16 | 824.06 |
| Power Index | 1842.03 | 1926.27 | 1950.13 | 1950.91 | 1990.14 |
| New Energy Index | 2226.18 | 2408.08 | 2367.52 | 2301.41 | 2289.20 |
Energy Index of A Week
| | | | | | |
| --- | --- | --- | --- | --- | --- |
| | 31- Aug | 1- Sept | 2- Sept | 3- Sept | 4- Sept |
| Shanghai Composite Index | 3083.59 | 3232.35 | 3205.99 | 3166.62 | 3160.17 |
| Shenzhen Composite Index | 10254.35 | 10800.00 | 10549.16 | 10162.52 | 10054.80 |
| RMB Exchange Rate ($) | 6.4085 | 6.3986 | 6.3893 | 6.3752 | 6.3619 |
Shanghai and Shenzhen Composite Index of A Week




Coal & Power

Coal & Power News Review

It is learned from NDRC that, since August, situations over countrywide power generation and using and loading of railroad have turned to be good, which shows that more active changes have taken place in economical operations.

According to the data of State Grid, from August 1 to August 28, the national power generation was 463.349 billion KWh, rose by 2.97% compared with that of the same period of last year, rebounded for 6.54% in terms of growth speed compared with that of the same period of last year, and rebounded for 4.97% in terms of growth speed over that of July. Given the current power operation trends, it is estimated that the power generation in August rose for about 3% and is expected to grow in September.

A NDRC official expressed that, the preliminary judgment over the change of power using and railroad loading data shows that positive factors about the current economical operations have been strengthened continuously. And the things over part of the regions, especially in some economically large provinces also support the judgment, for instance, in Eastern part, the monitoring data from the demand administrative platform in Jiangsu province shows that, since August, the growth speed over power using in the main eight fields, like machinery, electronics, petrochemical, medicine, light-industry, textile, metallurgy, and construction materials, all rebounded compared with the previous month, and the growth speed of power using in August is expected to reach 6%, which shows the industrial value-added in August rose significantly; the weather temperature in Guangdong in August was lower than the same period of last year, but the its power using rose 2% compared with that of the same period of last year, and the growth speed was 4% over that of July, which shows that the economical operations in the province was significantly improved than it was in July. In middle China, for the top 20 large power users in Anhui province, the power using rose 3.5% since August compared with that of the same time period of last year, which shows the growth speed for the key industrial enterprises in the province rose; In Jiangxi province, since August, the amount of whole society using of the power dispatched on uniform basis rose 9.33% compared with that of the same time period of last year, which signaled that the economical growth speed was kept at a relatively high level.


Coal & Power Data Analysis

Heat
Port
5800K
5500K
5000K
4500K

秦皇岛Qinhuangdao

455-465

400-410

350-360

320-330

黄骅Huanghua

480-490

410-420

350-360

325-335

天津Tianjin

455-465

405-415

350-360

315-325

曹妃甸Caofeidian

460-470

400-410

350-360

320-330

国投京唐港
SDIC Jingtang

460-470

400-410

355-365

320-330

京唐港Jingtang

460-470

400-410

350-360

310-320
Bohai Thermal Coal Price Index (BSPI) (Unit: yuan / ton).
Published:Sept 2, 2015





Oil & Gas

Oil & Gas News Review

The recent oil price slump has forced the OPEC members to lower their expectations on this year's oil price, with highest expectation is not more than 60 US Dollars per barrel, which shows the organization is ready to bear the low oil price for a longer period of time to safeguard market shares and inhibit the crude oil output of its competitors.

The Platts Energy Information announced forecast report on August 31st and believes that China will continue to rely on importing crude oil to meet its demands from the rapidly growing coastal refinery bases. However, with the promotion of diversification strategy over crude oil imports, the crude oil import structure will change, which means the imported crude oil shares from middle east shall fall, while the shares import from Russia and Latin America shall rise.

Venezuela President Nicolas Maduro expressed on September 1st that Venezuela has signed an agreement and obtained five billion USD loan, which will be used to increase oil output of the country.

China Oil Chemical Industry Group Company announced on September 3rd that it had signed a cooperative framework agreement, and both sides shall jointly develop two oilfields in Russia. On the same day, SinoPec announced that it had signed a strategic investment agreement with West Boolean Group, the leading natural gas processing and petrochemical product company in Russia.

Reviewed and determined by Ministry of State Land and Resources, the size of the gaseous area newly added to the Wei Well Block 202, Ning Well Block 201, and YS108 is 207.87 square kilometer, the proven shale gas geological reserves is 163.531 billion cubic meters, and the technically exploitable volume is 40.883 billion cubic meter. The three blocks are all located inside the pilot area of state level shale gas operation. This is the first time China Oil providing the proven geological reserved shale gas.


Oil & Gas Data Analysis

| | | | |
| --- | --- | --- | --- |
| Date | WTI | Brent | OPEC |
| 2015-8-31 | 49.20 | 54.15 | 47.01 |
| 2015-9-1 | 45.41 | 49.56 | 47.77 |
| 2015-9-2 | 46.25 | 50.50 | 45.53 |
| 2015-9-3 | 46.75 | 50.68 | 47.37 |
| 2015-9-4 | 46.05 | 49.61 | 46.80 |
World Crude Oil Price Table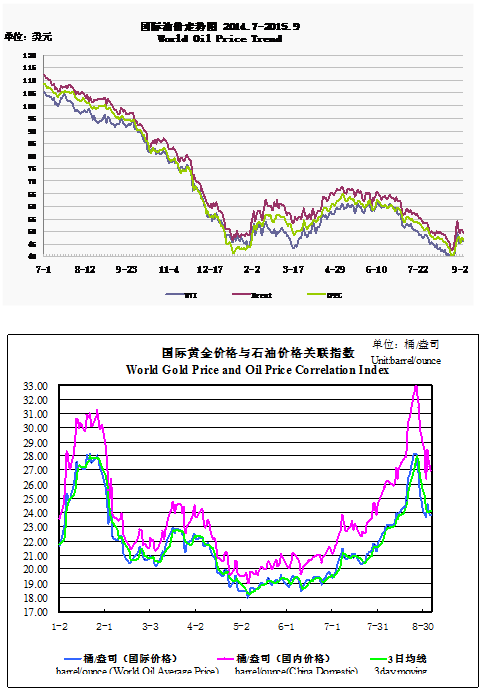 | | | | |
| --- | --- | --- | --- |
| Commodity | Original price of the beginning of the week (Yuan) | Price at the end of the week (Yuan) | Change |
| LPG | 3655.00 | 3655.00 | 0.00% |
| ULP | 6554.43 | 6759.29 | +3.13% |
| M15 | 5435.00 | 5345.00 | -1.66% |
| Diesel Fuel | 5167.65 | 5312.94 | +2.81% |
| fuel oil | 2880.00 | 2885.00 | +0.17% |
| LNG | 3792.31 | 3792.31 | 0.00% |
Major energy commodity price(8.31-9.4) (Unit: Yuan)



New Energy

New Energy News Review

The first domestic large-type water surface photovoltaic system, and the largest in Asia was completed in Linxi County of Hebei Province. The installed capacity of the system is 8 MW, and its power generation volume is 10% higher compared with the photovoltaic power station on share.
National Energy Administration is promoting new energies micro-grid development via three work, firstly to initiate the construction of the new energy micro-grid pilot project, secondly to improve the planning and standards system over new energies micro-grid, and thirdly to study and announce relevant supporting policy.

On August 28th, the first domestic 5 MW wind power generating unit got interconnected with state grid, which symbolized a breakthrough of the clean energy interconnection and smart dispatch technology in China. The unit can generate as much as 120,000 KWh per day and meet the needs of nearly one thousand households simultaneously.

As claimed by International Energy Agency (IEA), in the past five years, renewable energy, like solar and wind, power generation cost has fallen significantly, and itd gaps with fossil fuel or nuclear power plant has been narrowed gradually. IEA has claimed in its separate report that "the cost for renewable energy, especially the cost for photovoltaic technology of the renewable energy technology has fallen significantly in the past five years.

According to the statistical data, in the first half of this year, China has overtaken US and become the world largest new energies automobile market, with total sales of new energies automobiles expected to reach 200,000. It is predicted that Chinese new energies auto market in the next five years will top the world and sales by 2020 is expected to reach 2 million.

NEA announced recently The Modification Action Plan on Distribution Power Grid Construction (2015-2020), specifically pointed out that, in the next five years, the construction of distribution facility for power charging for new energies automobiles shall be the focus over electric energy substitution. By 2020, interconnection for 12,000 power charging stations and 4.8 million power charging pilings shall be satisfied to provide power charging service for 5 million electric-powered automobiles.

New Energy Data Analysis

Product
High
Low
Average
Change

Polysilicon

18.50

13.50

15.650

0%

Polysilicon(156mm x 156mm)

0.84

0.80

0.823

0.37%

Monocrystalline silicon
(156mm x 156mm)

1.10

0.90

0.932

-0.32%

Battery

0.36

0.33

0.343

-0.58%

Silicon Components

0.63

0.50

0.523

0.58%
International Solar Price (Unit: USD)