Weekly Review 2015-09-15
2015-09-15 15:50:45


Energy Finance

Energy Finance News Review

It is learned from NDRC that, since this year, facing the complicated domestic and abroad environments, the Party Central Committee and the State Council have been upholding the general benchmark tone, calling for making overall plan to stabilize growth, facilitate reform, adjust structure, benefit people`s livelihoods, and prevent risks and, while performing directional adjustment and control, strengthen coordination among multiples objectives, multiplex policies, and multiples reformations, actively deal with various kinds of difficulties and challenges, assure economy operating within reasonable range. Since August, the countrywide power generations, railroad freight loading and real estate price and transactions have all turned to be good, signified that the economical operations got stabilized amid fluctuations and turned to be good amid adjustment.

According to Li Dong, deputy director of equipment department of the Ministry of Industry and Information Technology, the ministry is, together with more than twenty ministries, grasping time and formulating breakdown plan over the state strategy of "Made in China" , i.e. the 1+X of <<Made in China 2025>> get implemented and, among which, the ten key fields include electric power equipment, ocean equipment, etc. And Li Zhi, chief economist of National Energy Administration ("NEA") has disclosed that NEA is formulating <<Implementation Plan for Energy Industry under Made In China 2025>> to segment the state strategy from industry perspective.

Recently, Putin visited China and attended in high profile the activities commemorating the 70th anniversary of the victory of the war against Japanese and fascism by Chinese people and the world. After watching military parade, Putin rushed to Vladivostok and attended the first term of Oriental Economy Forum where China and Russia signed nearly thirty cooperative documents, including multiplex energy cooperative agreements over joint development of oil and gas fields, which has elevated the Sino-Russia Energy Commonwealth to a higher level.

According to the authority of Gwadar Port Pakistan, the authority shall lease, under long term, the 2000 mu land of the Gwadar Port to China to build the first economical special zone in Gwadar Port. It is analyzed that the establishment of the first economical special zone in Gwadar Port shall not only produce demonstrative role to Pakistani economical development model, but also further lifting economical level.


Energy Finance Data Analysis
China5e • Energy Index is a vane of China energy industry development condition, it includes Energy Composite Index, Oil & Gas Index, Power Index, Coal Index and New Energy Index.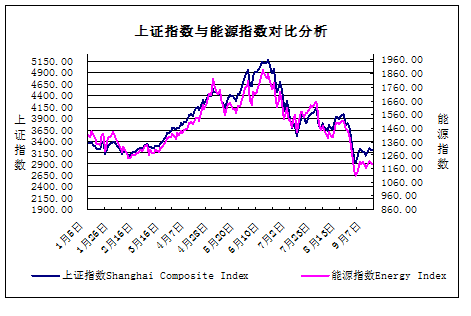 | | | | | | |
| --- | --- | --- | --- | --- | --- |
| | 7- Sept | 8- Sept | 9- Sept | 10- Sept | 11- Sept |
| Energy Composite Index | 1163.30 | 1187.31 | 1220.96 | 1202.16 | 1196.63 |
| Oil & Gas Index | 1078.26 | 1096.37 | 1130.96 | 1109.62 | 1107.57 |
| Coal Index | 791.48 | 806.20 | 830.07 | 822.32 | 813.27 |
| Power Index | 1935.54 | 1979.29 | 2004.74 | 1979.70 | 1969.47 |
| New Energy Index | 2250.61 | 2358.22 | 2452.52 | 2431.14 | 2404.47 |
Energy Index of A Week
| | | | | | |
| --- | --- | --- | --- | --- | --- |
| | 7- Sept | 8- Sept | 9- Sept | 10- Sept | 11- Sept |
| Shanghai Composite Index | 3080.42 | 3170.45 | 3243.09 | 3197.89 | 3200.23 |
| Shenzhen Composite Index | 9991.76 | 10320.23 | 10620.13 | 10424.65 | 10463.69 |
| RMB Exchange Rate ($) | 6.3584 | 6.3639 | 6.3632 | 6.3772 | 6.3719 |
Shanghai and Shenzhen Composite Index of A Week



Coal & Power

Coal & Power News Review

Since this year, coal price has been falling and, since late August, coal price has been fluctuating in the bottom. The data as announced by the Qinghuangdao Sea Freight Coal Transaction Market on August 26th shows that the comprehensive average price for the 5500 Kcal power coal in Pan-Bohai region reported at 409 Yuan/ton, fell by 1 Yuan/ton compared with the price reported by last report.

Since coal cost accounts for about 70% of the coal-fire power generation enterprise, the coal price fall is undoubtedly a good news for coal-fire power generation industry. As of August 27, 24 of the 35 coal-fired power generation companies listed in Stock Market A have disclosed their mid-term business results, and the mid-term profit increasing speed, exceeded market expectation. What`s special is that all the coal-fired power generation enterprises have turned to be good, and among more than 20 coal-fired generation companies, the business results of 14 are positive, accounting for seventy percent. For instance, Jidian Holdings turned loss into profit in first half of this year, and the net profit belonging to parent company rose 211% compared with that of the same time period of last year, and the main driver that turned loss into profit is the increase of gross profit compared with that of the same time period of last year. And benefited from the low cost brought by low coal price, the top of the industry, Huadian International and Shanghai Power all achieved 31% and 36% increase in net profits in first half of this year respectively.

As per statistics, in the first half of this year, the new coal-fired generation capacity that went into operation in China was 23.43 million KW, rose 55% compared with that of the same time period of last year. And the construction over coal-fired power generation projects in various places has been accelerated and, the ratified capacity under construction reaches 190 million KW, while about 200 million KW projects have got "Road Pass" already.


Coal & Power Data Analysis

Heat
Port
5800K
5500K
5000K
4500K

秦皇岛Qinhuangdao

445-455

395-405

345-355

315-325

黄骅Huanghua

460-470

395-405

345-355

320-330

天津Tianjin

455-465

400-410

350-360

315-325

曹妃甸Caofeidian

450-460

400-410

345-355

315-325

国投京唐港
SDIC Jingtang

450-460

400-410

355-365

315-325

京唐港Jingtang

450-460

395-405

350-360

310-320
Bohai Thermal Coal Price Index (BSPI) (Unit: yuan / ton).
Published:Sept 9, 2015



Oil & Gas

Oil & Gas News Review

Ministry of Commerce and Customs General Administration jointly announced notice most recently, issuing the fourth batch of export quota for processed and trading finished oil in 2015, which is 9.9 million tons. And as of now, the export quota in this year has exceeded significantly over that of the whole year last year.

Data shows that China imported 221 million tons of crude oil in the first 8 months this year, rose 9.8% over that of the same time period of last year. Currently, the daily exports of Chinese finished oil has increased 98 thousand barrels over that of the same time period of last year, and the daily imports of finished oil has reduced 57 thousand barrels compare with that of the same time period of last year, which signifies that China shall process more crude oil.

The spokesperson of Kremlin expressed on September 8 that Russia shall not join OPEC even though oil price has slumped and, for the time being, has no plan over cooperation and output reduction together with OPEC. And part market investors believe that by joining OPEC Russia may effectively stabilize oil price.

Fatih Birol, the new executive director of International Energy Administration expressed recently that, to cope with occurrence of crisis, IEA hopes to cooperate with China in all aspects in using oil reserves jointly. China is an important participants in global energy market and should participate in full in IEA`s efforts in securing energy supply.

A report announced by US Energy Information Agency (EIA) shows that the average volume of crude oil exports from Saudi Arabia to its seven major trading partners in Asia is 4.4 million barrels/day. Saudi Arabia`s market share in China, Japan, China Taiwan, and Thailand is secured.
The representative of OPEC expressed recently that, with the return to OPEC by Indonesia, which is expected to happen in December, OPEC may adjust upwardly the top limit over official output. OPEC shall not actually increase output, but will include Indonesia`s output of 800 thousand barrels/day into its objective output which is 30 million barrels/day.

Oil & Gas Data Analysis

| | | | |
| --- | --- | --- | --- |
| Date | WTI | Brent | OPEC |
| 2015-9-7 | - | 47.63 | 45.59 |
| 2015-9-8 | 45.94 | 49.52 | 45.38 |
| 2015-9-9 | 44.15 | 47.58 | 45.96 |
| 2015-9-10 | 45.92 | 48.89 | 44.83 |
| 2015-9-11 | 44.63 | 48.14 | 44.64 |
World Crude Oil Price Table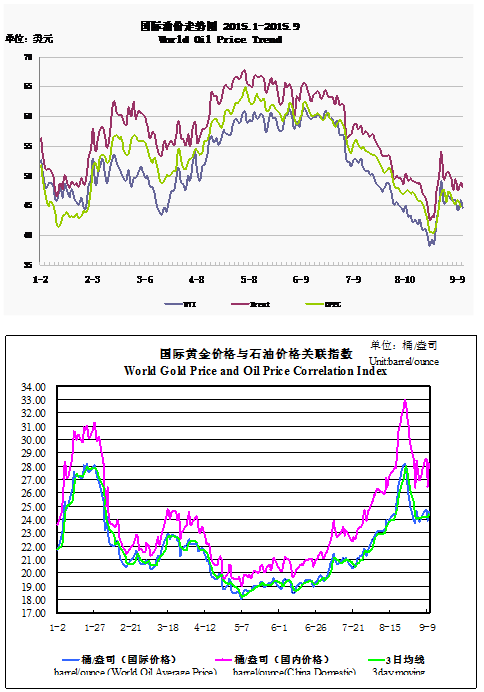 | | | | |
| --- | --- | --- | --- |
| Commodity | Original price of the beginning of the week (Yuan) | Price at the end of the week (Yuan) | Change |
| LPG | 3695.59 | 3650.29 | -1.23% |
| ULP | 6752.14 | 6879.86 | +1.89% |
| M15 | 5305.00 | 5315.00 | +0.19% |
| Diesel Fuel | 5318.82 | 5324.71 | +0.11% |
| fuel oil | 2880.00 | 2885.00 | +0.17% |
| LNG | 3792.31 | 3761.54 | -0.81% |
Major energy commodity price(9.7-9.11) (Unit: Yuan)



New Energy

New Energy News Review

Chinese photovoltaic investment enthusiasm is shifting from manufacturing development to application market, and the diversification of the utilization rate of production capacity tends to be more and more obvious. According to the statistics of China Photovoltaic Industry, the average utilization rate over production capacity for the manufacturing enterprises of photovoltaic assemblies is about 77%. And the leading assembly manufacturing enterprises like Trina Solar, Canadian Solar Inc., and Jingke are all basically operating in full load, however, the average utilization rate of production capacity of the enterprises with production capacity below 200 MW is only 50%.

The trading disputes over solar energy between China and Europe will be rekindled. And various kinds of signs show that EU ProSun shall demand review upon expiration over the duty for the Chinese made solar energy commodity imported to Europe in 2013. The trading duty is granted for two years` duration and is planned to be expired on December 7, 2015.

From January to June 2015, the photovoltaic generation capacity newly installed countrywide was 7.73 million KW, in which, the photovoltaic generation capacity newly installed was 6.69 million KW, and the distributed photovoltaic generation capacity newly installed was 1.04 million KW. In the first half of the year, the only 43% of the targeted newly increased installed capacity got completed, and the slow increase of distributed photovoltaic installed capacity was the most important impact factor.

The Ministry of Industry and Information Technology has announced the <<Specification Conditions for Lithium Ion Cell Industry>> with the aim of strengthening management over lithium ion cell industry, enhancing industry development level, guiding industry`s transformation and upgrading and structural adjustment, and promoting sustainable and healthy development of lithium ion industry. The <<Specification Conditions>> shall ensure scaled production in a great extent and, it is predicted that many enterprises that fail to meet the standards shall either seek for collaboration restructuring or be merged by large enterprise.

Power charging development plays an important role for wide use of new energies automobiles. From 2010 to 2014, the compound growth rate for power charging piling reached 45%, and the compound growth rate for power charging station was about 70%. According to specification, if new energies automobiles reach 5 million countrywide by year 2020, the profit space for power-charging network shall be 55.8 billion Yuan and, among which the market value for the top driving companies whose power-charging service fee reach 32.5 billion Yuan, value-adding profit space reach 23.3 billion Yuan, and market occupation rate reach more than 30% shall be more than hundreds of billions Yuan.

New Energy Data Analysis

Product
High
Low
Average
Change

Polysilicon

18.50

13.50

15.650

0%

Polysilicon(156mm x 156mm)

0.84

0.80

0.825

0.24%

Monocrystalline silicon
(156mm x 156mm)

1.10

0.90

0.930

-0.21%

Battery

0.36

0.32

0.343

0%

Silicon Components

0.63

0.50

0.527

0.76%
International Solar Price (Unit: USD)