Weekly Review 2015-09-22
2015-09-22 14:07:00


Energy Finance

Energy Finance News Review

The Central Committee of Chinese Communist Party and the State Council issued the The Guidance Opinions on Deepening the Reformation in State-Owned Enterprise. The <<Opinions>> defines the objectives for the reformation in SOEs in new era, and provides direction and measures for the reformation in multiplex aspects like categorized reformation, state asset management system, development of mixed-ownership economy, and prevention of loss of state-owned assets.

The <<Opinions>> points out that by 2020, decisive results shall be achieved in key fields and critical developments of the SOE reformation, and establish the state-owned assets management system, modern enterprise rules, and liberalized business management system that are satisfactory to the basic economical rules and socialist liberalized economy growth requirements in China, make state-owned asset pattern more reasonable, produce more good entrepreneurs who are good in virtue, good in business and full of energy, cultivate a great number of state-owned bone enterprises that are creative and internationally competitive, and significantly strengthen the viability, control force, influence and anti-risk capability for state-owned economy.

On the press conference held by the news office of State Council on the 16th, Lian Weiliang, deputy director of National Development and Reform Commission (NDRC) introduced the latest progress made in the fields relating to economical system reformation. According to Lian Weiliang, NDRC has focused in promoting the reformation in SOEs and key sub-industries, has carried out reformation in key sub-industries like petroleum and natural gas, and is grasping time in researching and formulating plan. Prior to this, on the 14th, Lian Weiliang expressed when introducing the mixed-ownership system reformation that the projects satisfactory to industrial policy and beneficial to transformation and upgrading shall be introduced to non-state-owned capitals in fields of high thresholds like energy (petroleum, natural gas, electric power), transportation (railroad), communication, resources development, and public utilities, etc.

On the 2015 Low-Carbon Development Summit of Fifth China (Taiyuan) International Energy Industry Exhibition held on the 16th, Li Meng, vice minister of Ministry of Science and Technology expressed that, as the world largest energy producer and consumer, China shall take active actions, further strengthen the bilateral energy science and technology cooperation with other countries and explore the effective modes for global energy treatment.


Energy Finance Data Analysis
China5e • Energy Index is a vane of China energy industry development condition, it includes Energy Composite Index, Oil & Gas Index, Power Index, Coal Index and New Energy Index.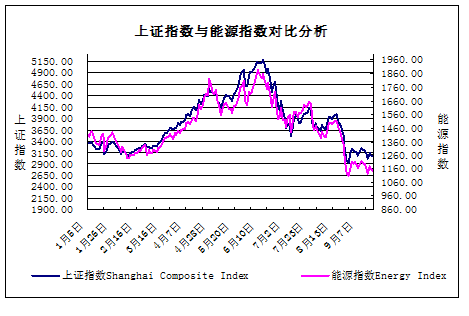 | | | | | | |
| --- | --- | --- | --- | --- | --- |
| | 14- Sept | 15- Sept | 16- Sept | 17- Sept | 18- Sept |
| Energy Composite Index | 1155.59 | 1126.04 | 1181.17 | 1155.05 | 1147.50 |
| Oil & Gas Index | 1067.49 | 1058.87 | 1098.10 | 1078.47 | 1067.95 |
| Coal Index | 790.95 | 754.66 | 804.79 | 776.34 | 779.58 |
| Power Index | 1921.92 | 1848.29 | 1940.20 | 1902.12 | 1882.36 |
| New Energy Index | 2267.95 | 2080.19 | 2299.95 | 2211.07 | 2225.47 |
Energy Index of A Week
| | | | | | |
| --- | --- | --- | --- | --- | --- |
| | 14- Sept | 15- Sept | 16- Sept | 17- Sept | 18- Sept |
| Shanghai Composite Index | 3114.80 | 3005.17 | 3152.26 | 3086.06 | 3097.92 |
| Shenzhen Composite Index | 9778.23 | 9290.81 | 9890.43 | 9739.89 | 9850.77 |
| RMB Exchange Rate ($) | 6.3709 | 6.3665 | 6.3712 | 6.367 | 6.3607 |
Shanghai and Shenzhen Composite Index of A Week



Coal & Power

Coal & Power News Review

As found by the analysis of US Energy Information Agency, in the past more than ten years, by energy, the coal consumed by China exceeded the previously announced figure by 14%. At the same time, from 2000 to 2013, the domestic coal output in China exceeded the previously announced figure by 7%. The analysis of the agency also supports the point that Chinese coal consumption has reached peak.

A report points out that the large volume super-voltage power transmission like connecting China inland coal rich area and coastal industrial regions may make China a coal export country once again.
From the second half of 2012, the coal inventory in various places countrywide has risen and coal price started to fluctuate and, since 2013, coal supply exceeded demands, and coal businesses started downhill since then. The data from NDRC shows that, in the first seven months of this year, the coal output countrywide was 210 million tons, fell by 5.3% compared with that of the same time period of last year. However, the figure in the first six months shows that output fell by 7.4% compared with that of the same time period of last year. The continuous fall in coal price has directly impacted the profitability of domestic coal mining enterprises. Date shows that, in the first six months, the scaled coal enterprises countrywide realized 20.05 billion Yuan profits, only 10.5% of that of the same time period of 2012, and the losses suffered by businesses reached 48.841 billion Yuan, and more than 70% of the large and medium-sized coal enterprises suffered from losses. Experts believe that the fact that Shenhua re-started export shows the guidance of polity, i.e. China is encouraging coal export. And if Shenhua resumes export, the pressure over part of the domestic production capacity surplus shall be alleviated.


Coal & Power Data Analysis
Heat
Port
5800K
5500K
5000K
4500K

秦皇岛Qinhuangdao

445-455

395-405

345-355

315-325

黄骅Huanghua

460-470

395-405

345-355

315-325

天津Tianjin

455-465

400-410

350-360

315-325

曹妃甸Caofeidian

450-460

395-405

345-355

315-325

国投京唐港
SDIC Jingtang

450-460

400-410

355-365

315-325

京唐港Jingtang

445-455

390-400

350-360

310-320
Bohai Thermal Coal Price Index (BSPI) (Unit: yuan / ton).
Published:Sept 16, 2015


Oil & Gas

Oil & Gas News Review

International Energy Agency (IEA) has expressed most recently that the recent further slump in oil price shows that in next year, oil supplied by non-OPEC countries shall see the largest reductions in more than twenty years. And US and Russia are expected to reduce daily output by nearly 500 thousand barrels.

The data announced by State Statistics Bureau most recently shows that, in August, refineries processed 44.34 million tons of crude oil, rose by 6.5% compared with that of the same time period of last year, equivalent to 10.48 million barrels per day, rose 1.8% compare on month-by-month basis, next to the historical records which is 10.59 million barrels per day created in June. Besides, the finished oil exported by China in August rose to the highest level since October 2014.

Lian Weiliang, deputy director of NDRC expressed on Sept. 14th that oil and gas reformation plan would be announced in this year and a mixed-ownership reformation plan would be announced before the end of this year. The core mindset for the new round of oil and gas overall reformation shall be such that upstream shall be opened up and pipeline be separated.

Zhao Jungui, deputy director of China Petroleum and Chemistry Industry Association disclosed most recently that Chinese government shall take energy and chemical industry as the key industry for Chinese international production capacity cooperation, and the association shall take promoting development strategy of "One Belt One Road" as the focus for the "Thirteenth Five-Year" Plan.
As reported by media, most recently, the price department of NDRC callled for internal meeting on the second natural gas price adjustment in this year and, according to which, in the future one to two months the price for non-residential gas shal be reduced by 0.56-0.6 Yuan/cubic meter, and the tiered gas price rules for residential gas shall be improved one by one, and the price in general shall be increased.

Sun Longde, vice president of China Oil Shareholdings Inc. expressed recently that the feasibility study report for the Line II project under China-Russia oil pipeline got approval from China Oil in August, 2015 and is planned to be completed and put into operation in 2017 to meet the requirement by which 15 million tons of crude oil shall be increased by Russia in 2018.

Oil & Gas Data Analysis
| | | | |
| --- | --- | --- | --- |
| Date | WTI | Brent | OPEC |
| 2015-9-14 | 44.00 | 46.37 | 43.85 |
| 2015-9-15 | 44.59 | 46.63 | 43.13 |
| 2015-9-16 | 47.15 | 49.75 | 44.57 |
| 2015-9-17 | 46.90 | 49.08 | 45.10 |
| 2015-9-18 | 44.68 | 47.47 | 44.34 |
World Crude Oil Price Table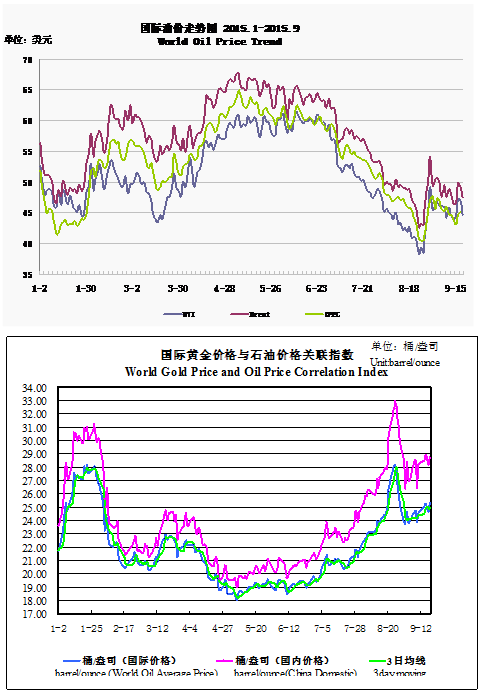 | | | | |
| --- | --- | --- | --- |
| Commodity | Original price of the beginning of the week (Yuan) | Price at the end of the week (Yuan) | Change |
| LPG | 3650.29 | 3727.35 | +2.11% |
| ULP | 6924.14 | 7039.14 | +1.66% |
| M15 | 5315.00 | 5325.00 | +0.19% |
| Diesel Fuel | 5345.29 | 5443.24 | +1.83% |
| fuel oil | 2885.00 | 2890.00 | +0.17% |
| LNG | 3761.54 | 3746.15 | -0.41% |
Major energy commodity price(9.14-9.18) (Unit: Yuan)


New Energy

New Energy News Review

The Forest Resources Administration Department under State Forestry Administration issued recently the <<The Notice on Standardizing Forestry Land Use for Photovoltaic Power Station>> requesting for comments. The requesting draft clearly points out that it ia forbidden to use forestry land, rare forestry land, and the land for growing prematured forestry, cutover land, and burning land to build photovoltaic power station. The relevant policies are expected to be issued in the year.

On Sept. 16, 2015, the Zhao Shang New Energies Group and Xinjiang Production and Construction Corps jointly executed the <<Finance Energy Internet Industry Strategic Cooperation Framework Agreement>>, proposing to, before 2020, build several professional photovoltaic power generation pilot parks by newly establish or cooperative development, invest 40 billion Yuan.

Recently, good news from the state wind and photovoltaic pilot power station built and operated by State Grid Ji Bei Power Company Limited that the 5MW permanent magnetic direct-driven wind power generating unit, the largest domestic onshore single unit capacity wind power generation unit got interconnected successfully. to provide firm support for using green and clean power for winter Olympic. The unit is currently the largest wind turbine installed at the highest elevation, operated in the mode best for equipment, and constructed and operated with direct investment for wind farm.
The growth research conducted since this year over the superficial zone geo-thermal energy development and utilization industry has reached preliminary conclusion that, during the "Thirteenth Five-Year Plan," the newly increased area heated with geo-thermal is 950 million square meters, in which, 700 million square meter was newly increased with heating from geo-thermal heating pump, 250 million square meters was increased with normal heating, and by 2020, 145 million square meter can be heated with geo-thermal heating.

The multiplex uncertain factors that may occur in the second half of the year may still dominate low operations for battery sub-industry. Data shows that, from January to July, 273 battery businesses suffered from losses countrywide, rose 10.08% compared with that of the same time period of last year, and a bit less than the number of the business that suffer from losses from January to March, which was 329. From January to July, and cumulatively, 22.41% of the countrywide battery industry businesses suffered from losses, rose 2.05% compared with that of the same tine period of last year, and the amount of the losses was 2.01 billion, rose 19.13 compared with that of the same time period of last year.


New Energy Data Analysis
Product
High
Low
Average
Change

Polysilicon

18.50

13.50

15.600

-0.32%

Polysilicon(156mm x 156mm)

0.84

0.80

0.825

0%

Monocrystalline silicon
(156mm x 156mm)

1.09

0.90

0.930

0%

Battery

0.36

0.32

0.343

0%

Silicon Components

0.63

0.50

0.528

0.19%
International Solar Price (Unit: USD)