Energy Weekly Review 2016-05-17
2016-05-17 13:19:00 Author: V.H.


Energy Finance



Energy Finance News Review

NBS: China's industrial output, investment, retail sales data
Industrial output grew by 6.0% year-on-year in April, compared with the 6.8% growth registered in March, the National Bureau of Statistics (NBS) said on Saturday. This was below a median forecast of 6.6% by economists.
Fixed-asset investment in urban areas expanded by a weaker-than-expected 10.5% YoY in the January-to-April period, compared with an annual increase of 10.7% for the first three months of 2016. Retail sales grew by a less-than-expected 10.1% in April compared to the year-ago period after having grown by 10.5% YoY in March. Housing sales jumped 61.4% YoY during the January-to-April period. This compared with a 60.3% YoY increase for the first quarter of 2016, and 16.6% growth for all of 2015. Property investments grew by 7.2% YoY in the January-to-April period, compared with a 6.2% annual increase in the first quarter of 2016.
Fiscal spending also weakened in April with 4.5% YoY growth compared with the 15.4% growth in the first quarter. China set an annual fiscal spending growth target of 6.7% for 2016 and a fiscal deficit target of 3% of GDP, up from 2.3% in 2015.

CASS expects Chinese economy to grow 6.6-6.8% this year
China's economy is likely to grow between 6.6 percent and 6.8 percent in 2016, the Chinese Academy of Social Sciences (CASS) predicted in their Blue Book on China's economic prospect that was released last Tuesday. The report stated that the fundamentals and favorable conditions for continuous growth of Chinese economy remain in place, although the economy faces downside pressure. China's employment and consumer prices will remain stable in 2016 , according to the government think tank's report.
However, with growing downward pressure due to uncertainties both at home and abroad, the government should keep its monetary policy easy and ensure that the growth of credit supply and social financing accelerates at a "reasonable and moderate rate", the Chinese Academy of Social Sciences (CASS) said in the report. CASS expected the country's consumer prices to rise by 2.1 percent year on year in 2016, and projected producer prices will continue a downward trend, down 3.7 percent.

China approves $21.3 billion projects to boost economy
A total of 13 new fixed asset investment projects worth 138.8 billion yuan ($21.3 billion) have been approved by NDRC in April, including three waterworks construction projects, four in transport and two energy projects, said Zhao Chenxin, NDRC spokesman on a briefing last Thursday. The two energy projects obtained investment of 6.7 billion yuan ($1 billion) to optimize energy consumption and treat air pollution. A project was approved last month to transmit 1.2 million kilowatt-hours of wind-generated electricity to north China.

Energy Finance Data Analysis

China5e • Energy Index is a vane of China energy industry development condition, it includes Energy Composite Index, Oil & Gas Index, Power Index, Coal Index and New Energy Index.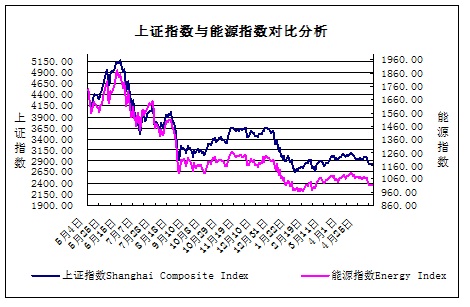 | | | | | | |
| --- | --- | --- | --- | --- | --- |
| | 09- May | 10- May | 11- May | 12- May | 13- May |
| Energy Composite Index | 1014.07 | 1014.23 | 1016.07 | 1018.78 | 1015.44 |
| Oil & Gas Index | 931.40 | 933.40 | 933.92 | 932.22 | 930.95 |
| Coal Index | 719.62 | 720.86 | 718.78 | 722.94 | 720.47 |
| Power Index | 1704.51 | 1709.84 | 1714.40 | 1744.34 | 1727.21 |
| New Energy Index | 2178.00 | 2182.31 | 2167.09 | 2162.67 | 2155.44 |
| | | | | | |
| --- | --- | --- | --- | --- | --- |
| | 09- May | 10- May | 11- May | 12- May | 13- May |
| Shanghai Composite Index | 2832.11 | 2832.59 | 2837.04 | 2835.86 | 2827.11 |
| Shenzhen Composite Index | 9790.48 | 9793.22 | 9781.15 | 9796.58 | 9759.27 |
| RMB Exchange Rate ($) | 6.5105 | 6.5233 | 6.5209 | 6.4959 | 6.5246 |
Shanghai and Shenzhen Composite Index of A Week